Hello! Happy February to you all!
We hope you are doing well and weathering this season as best you can. To cheer you through the bleak mid-winter, we are excited to announce two more installments of our "Live From The Studio" series. Please tune in, comment, like, share, and if you are so inclined, donate to our virtual tip jar. We've got the same crack team of MKDevo, Michelle Young, and Matt Calabrese assembled and will be bringing you the best pro-shot video, multitrack audio, and light show that we can from our headquarters in Brooklyn.
"Live From The Studio" Sessions
Part 3: Saturday, February 27th, 8PM
Part 4: Saturday, March 20th, 8PM
Electric Bouquet's 3rd birthday
It's hard to believe it was 3 years ago this week the debut PEAK album Electric Bouquet came out. If you haven't put it on in a while, or never gave it a listen, head over to Spotify here or our Youtube Channel here and give it a spin! It has aged like fine wine and tracks like "Ride Through The Night," "Falling Backwards Through Time," "Feel Like Moving," and many more sound just a fresh today as when it came out. A huge thanks To Dave Brandwein for producing, Dave Vertino for the cover, Matt Kolinski, Michael Lew, and Matt Dolliver for spreading the word, and all of you for listening, it really does mean so much to us!

Highlights From "Live From The Studio" Parts 1 and 2
In case you missed it, or if you find yourself saying 'let me hear that shit again," you can check out this 15-minute "Idylwild Flower" (from part 2) here or if you want to see Kito freak out again, you can revisit our cover of Mac DeMarco's "Freaking Out the Neighborhood" (from part 1) here.
As always, two great ways to support the band are to go to our Bandcamp here and pay what you want to listen to a bunch of great audio releases, or head to our online store here and pick out some heady PEAK merch, including new pins and T-shirts designed by the formidable Dave Vertino.
See you soon and much love,
Jeremy, Johnny, Josh, and Kito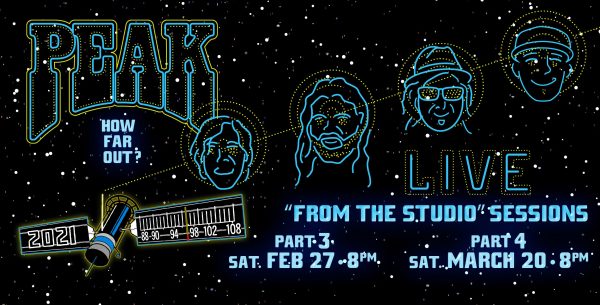 ​
---