Happy Spring,
We hope you all are doing well. It's a big week for us! We're excited to announce that our 2nd full-length live album Hot Clips 2 has arrived and is available on all platforms. Details are below. We are also in the midst of a lovely Spring Tour that takes us to Stanhope House in New Jersey this Friday and back home Saturday for an epic throwdown with Lespecial at the Grammercy Theatre in Manhattan.
If you're planning on attending the NYC show, we (the band) have NO FEE tickets and you can get them directly from us. Details below. Thank you all so much for your support on this tour, we really appreciate it so much!
Much love,
Jeremy, Johhny, Josh and Kito
GRAMERCY THEATRE Saturday 4/16/22
New York, NY
Showtime: PEAK 7-8
TICKETS: Venmo the band directly at @PEAKtheband. $22, and your ticket will be at will call.
HOT CLIPS 2
Hot Clips 2 is the second official live release in our Hot Clips Series. It was culled from some of our favorite jams of Summer and Fall 2021 Tours. It contains songs off of previous studio albums, unreleased songs, and a cover of a Mac Demarco song.
=============================
Tracklist:
Path Paved With Roses
Vanishing Skies
Run Me Down
In My Mind I'm Already Gone
Freaking Out the Neighborhood
Missionary Ridge
It's Easy To Give Up (Don't Give Up Too Easy)
Starlight Child
TOUR DATES
4.15 Stanhope House, NJ *
4.16 Gramercy Theatre, New York, NY #
4.23 Aeronaut Brewery, Boston, MA%
4.28 Park City Music Hall, Bridgeport, CT**
4.30 Main Pub, Manchester, CT
6.30 Camp Jam, Brunswick ME
* co-bill w/ Uncle Stump
# supporting Lespecial
% w/ Lush Honey
** supporting Evanoff
www.PEAKtheband.com
FB
IG
Youtube
Spotify
Bandcamp
archive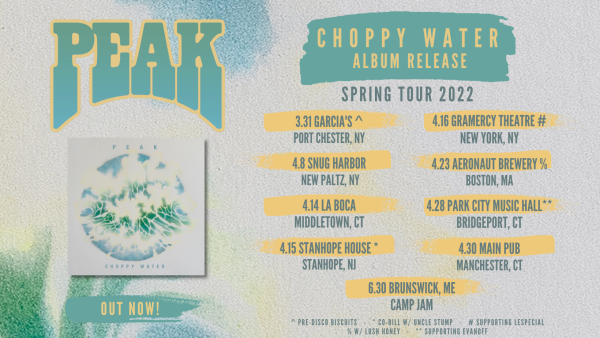 ---